Click Here for the Announcements for Parshas Vayeitzei

Candle Lighting 4:11 pm
Mincha 4:15 pm
Evening Shema after 5:14 pm
Hashkama 7:00 am
No Parsha Shiur
Main Shul 8:45 am
Morning Shma before 9:28 am
Youth Groups 10:00 am
Mincha 2:15 & 4:05 pm
Maariv & Havdala 5:14 pm

Mazel Tov to Aryeh Krimsky on his Bar Mitzvah. Mazel Tov to Aryeh's parents Rabbi Jonathan and Chaya Krimsky, grandparents Sid and Dorothy Krimsky and Chatz and Libby Lazarus and all the friends and family who joined us for this simcha. Everyone is invited to Kiddush following davening in honor of Aryeh's Bar Mitzvah.

Pre-Chanukah Shiur: Rabbi Glasser will be giving a shiur "Chanukah Under Fire: Aspirational Compromise" on Wednesday December 11th at 8:15pm. Men and Women are invited. The shiur is sponsored by Hilda Bachrach and family commemorating the 3rd Yahrzeit of Dr. David Bachrach, Harav Dovid Aryeh ben Avraham Yehuda on the 20th of Kislev.

Register today for the YIPC Chanukah Brunch: Join us on December 29th, 7th Day of Chanukah for the annual YIPC Chanukah Brunch, delicious buffet and entertainment by Elliot Zimet, 9:30-11:30am, $14/adult, $9/children under 10, $46 family max. Sponsorships are available. Register at https://www.yipc.org/event/chanukah-brunch-5780.html

From the Youth Department:
Super exciting youth Chanukah event! Join us on Tuesday December 17th for an EPIC LASER TAG CHALLENGE! 5-6 pm 1st-3rd graders, 6-7 pm 4th-6th graders (separate rounds for girls & boys), $6/members, $8/non members. Limited space so reserve now at https://www.yipc.org/form/chanukah-youth-event-5780.html



7th Grader Leadership opportunity!- This Motzei Shabbos for girls and next Motzei Shabbos for boys- The youth department is currently accepting 7th graders as leaders in training. We will be hosting a Leader Melava Malka for girls on December 7th and for boys on December 14th. Join our current leaders for training and learn more about leadership opportunities. You can reach Morah Sara via email youth@yipc.org



Pre-Chanukah Preschool Event: Sunday December 15th 11am-12pm, Make a play menorah!! Ages 3-P1a children accompanied by an adult, Cost $6/member $8/non member. Registration information coming soon.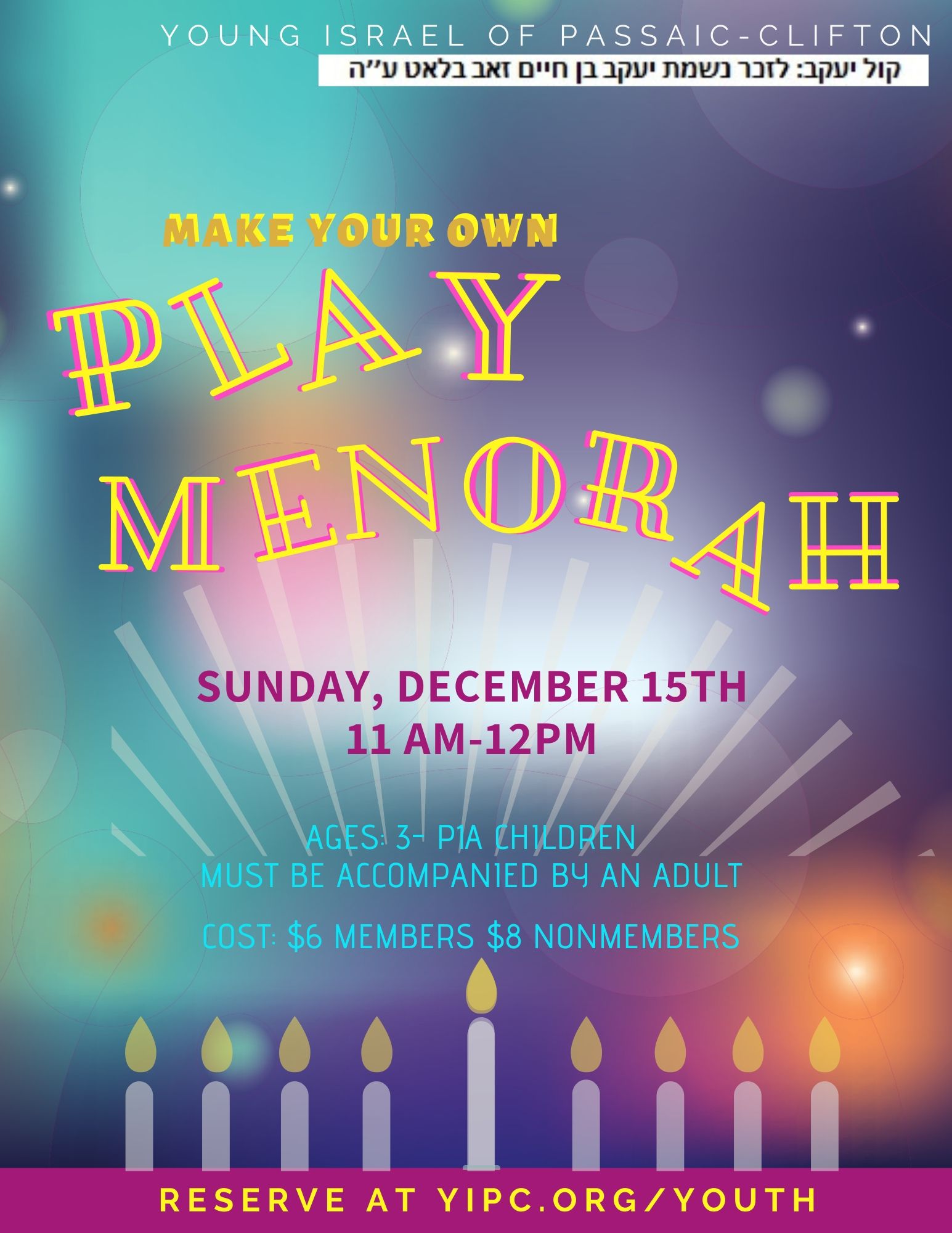 Shalosh Seudos Shiur: Rabbi Glasser will continue his tefillah series, Rav Soloveitchik on Tefillah: Reflections and Insights from the Rav. The shiur will take place during Shalosh Seudos in the social hall. Men and women are invited.

Wednesday Night Tefillah Shiur: Part one of the Wednesday night Tefilah shiur has concluded. The series will resume after Chanukah. Shiur dates will be announced.

9PM Maariv: Our 9pm maariv minyan continues Monday-Thursday. Please make an effort to attend.

Teen Minyan: The next teen minyan for boys grades 7-12 will meet Shabbos Parshas Miketz. The hot Kiddush is anonymously sponsored in memory of Yosef Yitzchok ben Yehuda Leib ZT"L.



​
​
Fri, December 6 2019
8 Kislev 5780
Today's Calendar
tallis and teffilin

: 6:07a
Shacharis

: 6:15a
Candle lighting

: 4:11p
Mincha/Kabbolas Shabbos

: 4:15p
Evening Shma after

: 5:14p
---
Upcoming Programs & Events
---
This week's Torah portion is

Parshas Vayetzei
Shabbos Mevarchim
View Calendar
Update this content.
Today's Zmanim
Alos Hashachar
5:39a
Earliest Tallis
6:11a
Netz (Sunrise)
7:06a
Latest Shema
9:26a
Zman Tefillah
10:14a
Chatzos (Midday)
11:47a
Mincha Gedola
12:11p
Mincha Ketana
2:32p
Plag HaMincha
3:30p
Shkiah (Sunset)
4:29p
Tzais Hakochavim
5:14p
More >>
Fri, December 6 2019 8 Kislev 5780